This week I was
ON-THE-HUNT
for new ways to use up the brown and spotty bananas we always end-up with toward the end of the week!
I have a few GO-TO banana-based recipes that I use on a regular basis.
Number 1
on the list is Grandma Deanna's Banana Bread....simple & sweet! I LOVE letting the kids' help me with this one because it's one of the FIRST recipes I remember baking when I was a youngster ;)
Another Family-favorite around here is
Chocolate Chip Banana Bread Pudding
! It's AMAZING served hot, when the chocolate is all melty-schmelty right out of the oven...and it's just as delicious served cold the next day!
Here are a few new ones I found that we'll be giving a go!
Peanut Butter Banana Smoothies
from
This Chick Cooks
...ummm...YES please!
Frozen Peanut Butter Banana Bites
from
Tidy Mom
...I know my kidlets will go NUTS over these...plus it's the perfect recipe that they can help with!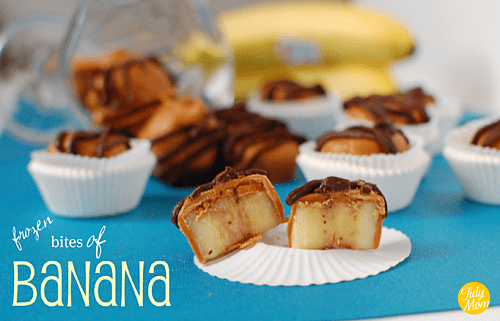 Banana Split Cupcakes
from
Bakers Royale
...these have been on my
MUST-BAKE
list for awhile now...it's only a matter of time people!
Banana Boats
from
Lick My Spoon
....we've made these for YEARS! They are SO flippin' good...perfect for camp-outs or even just as dessert on Grill Night!
Peanut Butter Banana Sushi
from
Domestic Charm
...another FUN one for the kiddos!
Enjoy!
~Audrey